Silverhand background:
Taking their name from the legend of an ancient Irish king, Silverhand was founded in 1996 by Chris Burbick and Lisa Gorlin. Their unique blend of traditional Irish and Scottish dance tunes and original songs has made this group a favorite throughout Southern Oregon. Creative instrumental harmonies, masterful composition and tight, original arrangements form Silverhand's trademark sound.
Their style is best described as high-energy Celtic folk-rock, and their upbeat performances contribute to their popularity at events such as Cave Junction's Concerts in the Park, Blackberry Festival and Scottish New Year Feast.
Since the outset, Silverhand has captured the hearts of Celtic music lovers of all ages. In establishing and hosting the very popular Bardic Night series in Grants Pass, Oregon, Silverhand has also helped bring many talented musicians and songwriters into the local spotlight.
Silverhand is comprised of Chris Burbick on mandolin, Irish bouzouki, electric guitar and vocals, Lisa Gorlin, acoustic guitar, Doug Heydon, double bass and electric bass and Mike Fitch, drums and percussion.
Chris, a multi-instrumentalist and the group's composer, is just as much at home on mandolin and Irish bouzouki (octave mandolin) as the guitar. Lisa's acoustic guitar provides a bed of tightly woven original arrangements over which Chris' melodies and unusual left-hand ornamentations soar. Combined with their dynamic and versatile rhythm section, Silverhand is forging new inroads into the Celtic-fusion genre.
Silverhand headlined the Rogue Celtic Festival at the 650-seat Rogue Theatre in downtown Grants Pass, Oregon. They have also performed at the popular Henfling's Firehouse Tavern in Ben Lomond, California, the Espresso Garden and Café in San José and the King's Head Pub in Campbell.
The group's debut CD, Silverhand, released in March 2001 to enthusiastic response, is receiving airplay on radio stations across the US and in Australia.
Silverhand is available for bookings as a duo, trio or quartet.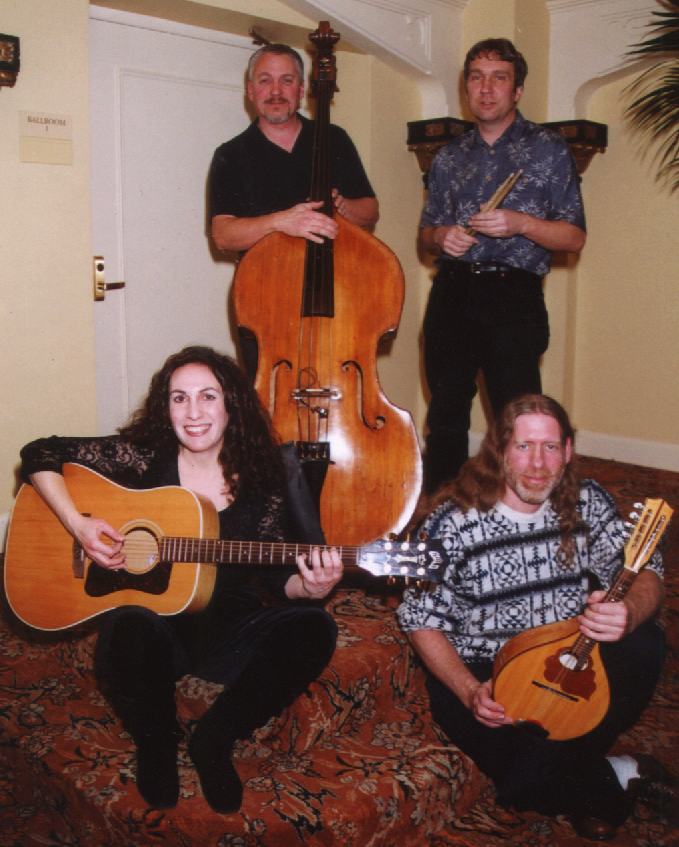 Silverhand Lineup:
Chris Burbick: acoustic and electric mandolin, Irish bouzouki, electric guitar and vocals
Doug Heydon: double bass, electric bass
| | | | |
| --- | --- | --- | --- |
| | home | performance schedule | |